Tokyo Magnitude Downloads Episode 8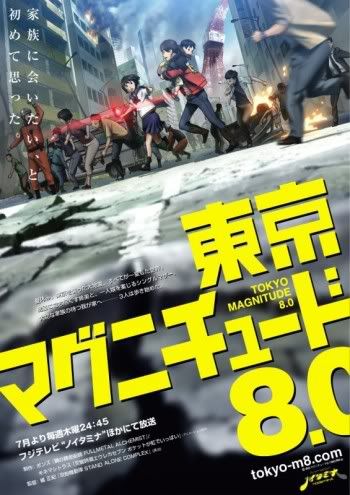 Title : Tokyo Magnitude 8.0 Japanese Title : ?????????8.0 Official Site :
http://www.tokyo-m8.com/
Category : TV Total Episodes : - Genres : Drama Year Published : 2009 Release Date : 2009-07-00 Broadcaster : - Studio : - US Distribution : -The premise of the story is the 70% or higher possibility that a magnitude 7.0 earthquake will occur in Tokyo in the next 30 years. The story depicts what would happen if a 8.0 earthquake tooks place.The story will center on Mirai, a middle school freshman girl who goes to Tokyo's artificial Odaiba Island for a robot exhibition with her brother Yutaka at the start of summer vacation. A powerful tremor emanates from an ocean trench, the famed Tokyo Tower and Rainbow Bridge crumble and fall, and the landscape of Tokyo changes in an instant. With the help of a motorcycle delivery woman named Mari who they meet on Odaiba, Mirai and Yutaka strive to head back to their Setagaya home in western Tokyo.Episode 01 :
Megaupload
Episode 02 :
Megaupload
Episode 03 :
Megaupload
Episode 04 :
Megaupload
Episode 05 :
Megaupload
Episode 06 :
Megaupload
Episode 07 :
Megaupload
Episode 08 :
Megaupload
if Tokyo Magnitude 8.0 Downloads are not working, please try one of the Video Mirrors.
Upload by: renzuken
Updated: August 31, 2009
You are Watching Tokyo Magnitude 8.0 Downloads only at Chia-Anime.com or Download Tokyo Magnitude 8.0 Downloads Free , Chia Anime is the best anime site! we offer High Quality Fast Loading Videos and you can also watch this episode via Mobile Streaming