Bleach Movie The Diamond Dust Rebellion Download Episode 2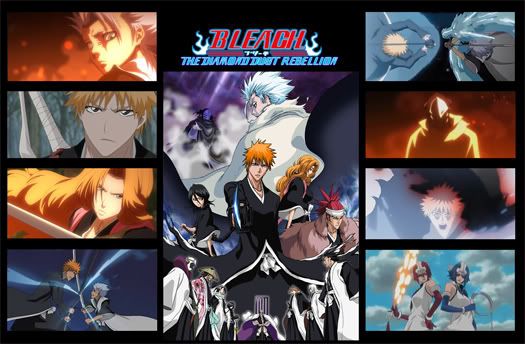 Plot Summary: When an artifact known as the "King's Seal" is stolen during transport from Soul Society, Hitsugaya Toushirou is assigned to retrieve it. Toushirou goes missing after a battle with the thieves, leading Seireitei to suspect him of treachery. They order his immediate capture and execution. Unwilling to believe him capable of such a crime, Ichigo, Rangiku, Rukia, and Renji set out to find Toushirou and clear his name. Meanwhile, Toushirou is still searching for the thieves, and stumbles upon a dark secret involving a shinigami long since dead.
Splitted file, put them in same folder and extract here using 7zip
if Bleach Movie 2 – The Diamond Dust Rebellion Download are not working, please try one of the Video Mirrors.
Upload by: Slashz
Updated: June 15, 2009
You are Watching Bleach Movie 2 – The Diamond Dust Rebellion Download only at Chia-Anime.com or Download Bleach Movie 2 – The Diamond Dust Rebellion Download Free , Chia Anime is the best anime site! we offer High Quality Fast Loading Videos and you can also watch this episode via Mobile Streaming