Akikan! Download Episode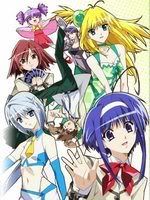 Plot Summary:
Daichi Kakeru is a sixteen year-old high school student who has never had a girlfriend. Little did he know that everything was about to change when he bought a melon soda on his way home from school. His first sip became his first kiss, as the can came to life in the form of a beautiful girl, who he called 'Melon'. The can is part of a government project called 'Akikan', where certain empty cans turn into beautiful girls. It's about a teenage boy named Daichi Kakeru. Daichi Drinks from a soda can and turns into a Cute Girl named Melon Soda and from there the two starts their adventure
Megaupload Links
if Akikan! Download are not working, please try one of the Video Mirrors.
Upload by: Slashz
Updated: June 15, 2009
You are Watching Akikan! Download only at Chia-Anime.com or Download Akikan! Download Free , Chia Anime is the best anime site! we offer High Quality Fast Loading Videos and you can also watch this episode via Mobile Streaming